Toronto Metropolitan University (TMU) has unveiled a large-scale public artwork to celebrate Indigenous placemaking and further the university's commitment to Truth and Reconciliation.
Located on the west-facing wall of Kerr Hall West at Gould Street and Nelson Mandela Walk, Paisajes de Nosotros (Landscapes of Us) is a sprawling mural commissioned by the university.
The piece is part of Arctic/Amazon: Networks of Global Indigeneity, an expansive curatorial program originated by the Wapatah Centre for Indigenous Visual Knowledge.
Curated by Gerald McMaster, the mural is a collaboration between Indigenous artists Niap (Nancy Saunders), and Olinda Reshijabe Silvano who respectively hail from these two regions.
"The intricate balance of relation, the first meeting between Niap and Olinda, was tenuous," said McMaster. "The immediate effect of this meeting and eventual creative collaboration was unmistakable in that there was a true understanding of a global network, a connection that a project such as this could realize. By singing their songs, their worlds came into being."
The 12-by-8-metre mural merges traditions, cultural legacies and insights from the Arctic and Amazon regions through the exploration of Indigenous ways of being, seeing and the shared values that inform each artist's work. 
The colour scheme of the mural embodies the ice, northern lights, Inuit cosmologies and symbolism of the North. The bold graphics of ancient kené designs symbolize woven visualizations of plant songs that serve as a musical score for Shipibo-Konibo peoples of the Amazon.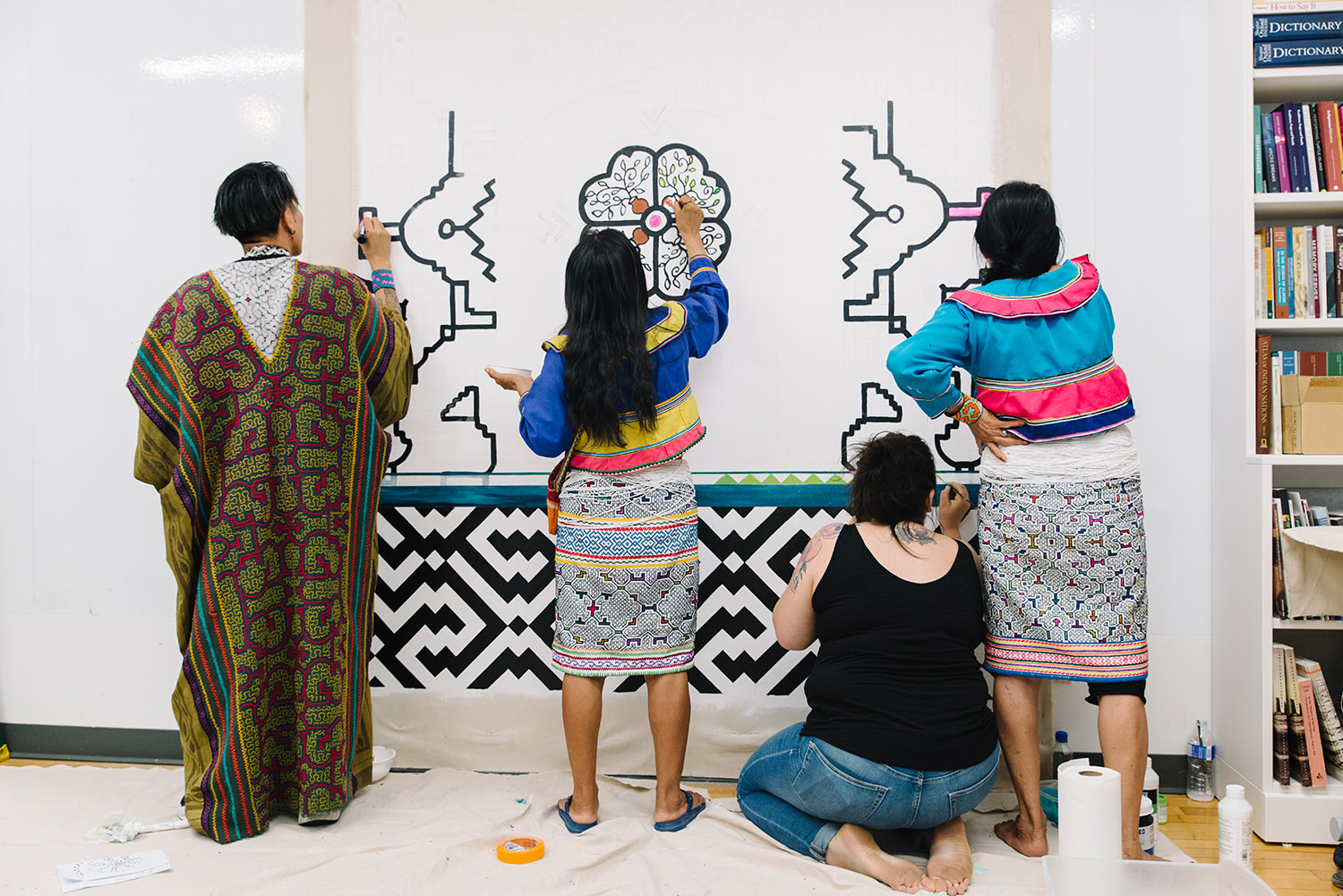 The mural was a collaboration between Indigenous artists Niap (Nancy Saunders) from Kuujjuaq, Nunavik, Quebec, and Olinda Reshijabe Silvano from Lima, Peru. Photo: Stef & Ethan