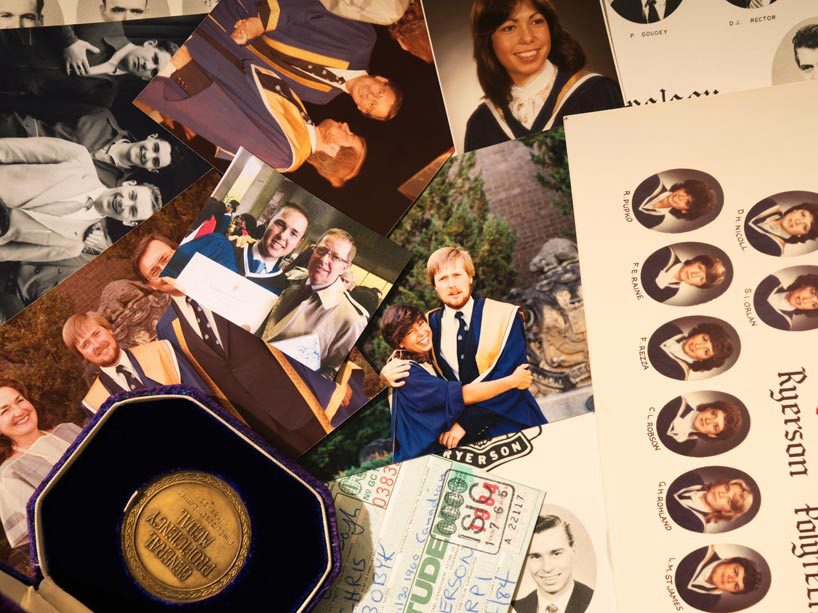 Memorabilia from the family Bobyk that reflects their time at TMU. Photo: May Truong.
John Bobyk, Metallurgical Technology '55  
"I just turned 89 and still hale and hearty, living in Orillia. I retired at 65 as president of Thermadyne Industries then went on to serve on the board of Oakville Hydro Corporation as chairman for seven years. I didn't fully retire until 74 before moving north to Orillia, an old cottage stomping ground of my wife, Ann Latimer, Fashion '56, and Ryerson's first female Gold Medallist. Sadly, Ann is in a private care facility for dementia patients. Ann loved sailing and school, by continuing on to get a bachelor from U of T and then a master's in anthropology and archeology at the age of 46. We have been together for 63 years since meeting at Ryerson. Our oldest son Chris and grandson Trevor are also degree graduates of Ryerson." Email John at jmbobyk@rogers.com. 
1960s
Bill Watson, School of Media, '63
The RTA graduating class of 1963 had a reunion at Hot House Restaurant to celebrate 60 years since they had graduated. Gord Shlanger, who passed away in 2022, used to arrange the reunions so Bill Watson stepped up this year. This was no easy feat as he was coordinating the event all the way from Calgary. Charles Falzon, dean of The Creative School, also wrote some remarks for the alum that were read at the reunion.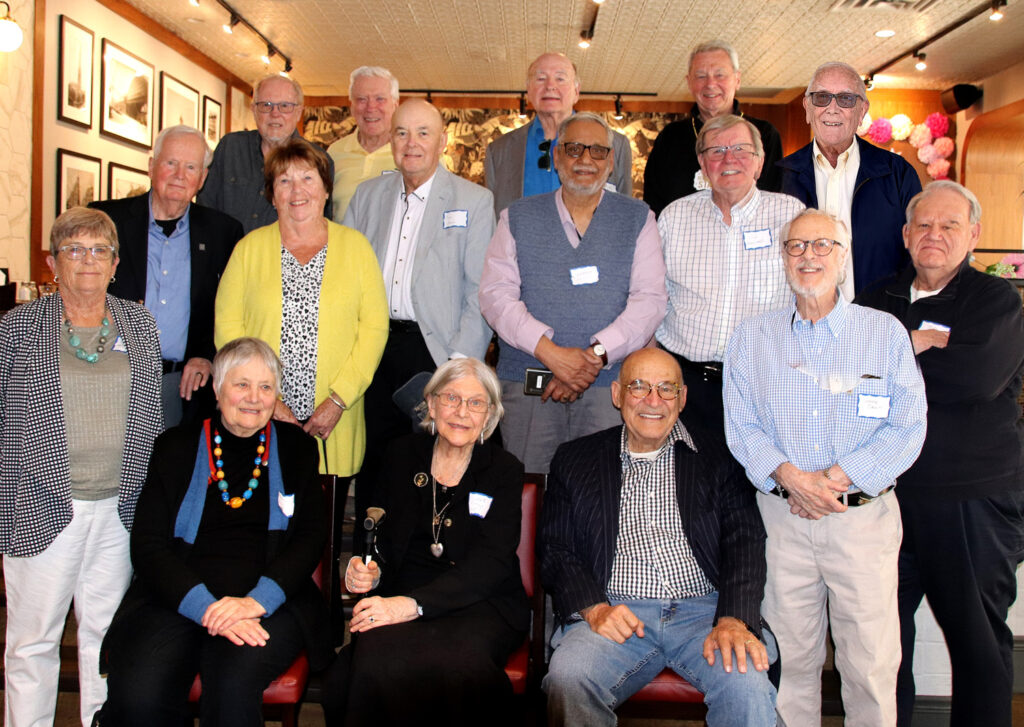 The RTA graduating class of 1963 had a reunion at Hot House Restaurant to celebrate the 60th anniversary of their graduation. Back row from left: Pete Byerlay '63; Wayne Brown '63; Brian Barker '64; Jim Robinson '63; and Cam Finley '63. Middle row from left: Bill Watson '63; Nancy (Cahill) Leger '63; Ron Buist '63; Farouk Muhammad '63; and Joe Hayward '63. Front row from left: Jackie Hayward; Elisabeth Ecker '62; Elizabeth (McKay) Hill '63; Bill Genova '64; Graham Orwin '62; and Ted O'Reilly '63. Present at reunion but absent from photo: Joe Lewis '63. Photo credit: Max Byerlay. Photo enhancement: Pete Byerlay.
1970s 
Paul Trayner, Social Services '73

 
"I entered the program as a mature student and have fond memories of a great school and good folks doing the right stuff.  After graduating, I returned to the labour movement, then moved to senior corporate human resources roles in western Canada. I obtained a master's at the Leadership Institute of Seattle in 1993 and three years later created SALT Consulting Group Inc. with offices in Edmonton, Vancouver and Seattle. I'm now retired from consulting after 25 years. Most importantly a proud father of a daughter and three sons and a growing family. Time now spent with family, friends, reading, travel, skiing and reconnecting with many who have been a part of my journey and experience to say thanks. Email Paul at pjmt2167@gmail.com.
1980s 
Grace Cameron, Journalism '81

 
"I've been publishing JamaicanEats magazine (about Jamaican and Caribbean food and culture) for almost 16 years. I've also published a cookbook called 10 Reasons Why Jamaicans Run So Fast. In addition, I organize Caribbean-themed food events in Toronto."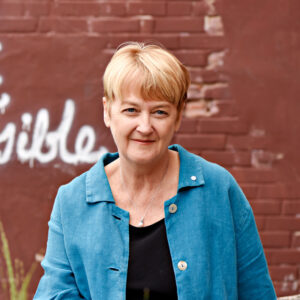 Cathy Crowe follows the pulse of health issues affecting people who are homeless including shelter conditions and inadequate housing, the return of tuberculosis and bedbugs.
Cathy Crowe, Nursing '85

 
Cathy co-edited Displacement City: Fighting for Health and Homes in Pandemic (UofT Press) with Greg Cook, an anthology of 30 contributors who provided prose, poetry and photography outlining the struggles of the unhoused population during the pandemic. 
Raul Romay Reverol, Chemical Engineering '82
"After graduation, I went back to Venezuela where I started a great career in the petrochemical industry where, after almost 30 years and attaining the position of president and CEO of Poliolefinas Internacionales, I had to retire due to the political events at the time. Then I worked as a business development representative for Chevron Lummus Global until December 2020, when I had to leave the country and move to Florida."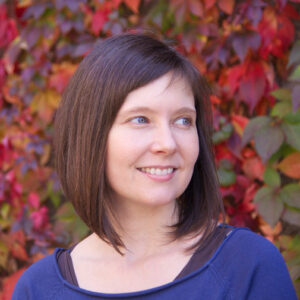 Geneviève Appleton is an award-winning actor, producer and director, born in Scarborough.
1990s
Geneviève Appleton, Image Arts '94

 
Geneviève started her career as a film and TV actor in Kids of Degrassi and Anne of Green Gables - The Sequel, among others. She worked behind the camera on the producing teams of award-winning films and TV shows including the CBC mini-series The Arrow, starring Dan Aykroyd, and Wilby Wonderful, starring Sandra Oh, Elliot Page and Paul Gross. For her company, White Wave Productions, Geneviève has written, produced, directed and edited several films. With the late professor and filmmaker Amnon Buchbinder, she co-produced the interactive documentary biologyofstory.com. She has also taught screenwriting and media production at various institutions including Bilkent University, University of Toronto, York, Sheridan and TMU. 
Mark Bishop 
and 
Matt Hornburg,
RTA School of Media '98
are the founders, co-CEOs, and executive producers of marblemedia, a global entertainment company that develops, produces and distributes TV and interactive digital content for audiences across all media platforms. The pair met at TMU and launched marblemedia in 2001, growing the company into an international conglomerate with offices in Toronto, London and Los Angeles, as well as a 50-acre production facility outside Toronto. Their recent hits include Netflix's international breakout competition series Blown Away, Drink Masters and the CBC series Race Against Time, to name a few.  They recently announced their first feature film set to launch on Amazon Prime this year: a documentary on the beloved Mr. Dressup TV series. 
Laura Lucas graduated from the RTA program in 1990, where she met alum Michael Lucas who became her husband. They now live in Grey County, Ontario.
Laura (Burton) Lucas, RTA '90

 
"I'm currently self-employed as an archival producer providing images and rights clearance for a variety of projects including broadcast television, feature documentaries and instructional courseware. I'm also the current president of the Visual Researchers' Society of Canada, representing more than 120 colleagues across the country. After graduation, I worked in radio news followed by a long stint at TVO as a visual researcher. Now operating as Big Picture Research, I enjoy hunting down the perfect image to tell a story, clearing the underlying rights for its use, and managing media assets into a solid archive. I've happily settled in Grey County, Ont. in an old schoolhouse full of archive charm with my hubby, Michael Lucas, also RTA '90." 
Mark Lim, Graphic Communications Management '92

 
Mark retired from a 30-year career in government work in 2022. "Enjoying spending time with my wife of 24 years and two children. Looking forward to travelling more and relaxing." 
Kate Markham-Zantvoort, Landscape Architecture '97

 
"I have just celebrated my first year as the trades and supply coordinator at HeroWork Victoria. HeroWork is a registered Canadian charity that transforms other charities by renovating their buildings. I was at a point in my career where I needed to make more of a difference; HeroWork allows me to do just that. This is feel-good work that feeds the soul!" 
Grazia Nalli-Aquino, Architecture '94

 
"I have been teaching architecture at Sheridan College for the past 14 years. I run my own firm and I am married to Robert Aquino who also graduated from Ryerson Architecture. We have two children, Rhemie and Charlena." 
2000s
Thereza Dos Santos, Applied Chemistry and Biology '00
"I worked for years in pharma and health care (thanks to early co-op placements), now I have transitioned to full-time creative writing for children and am on my journey to publication."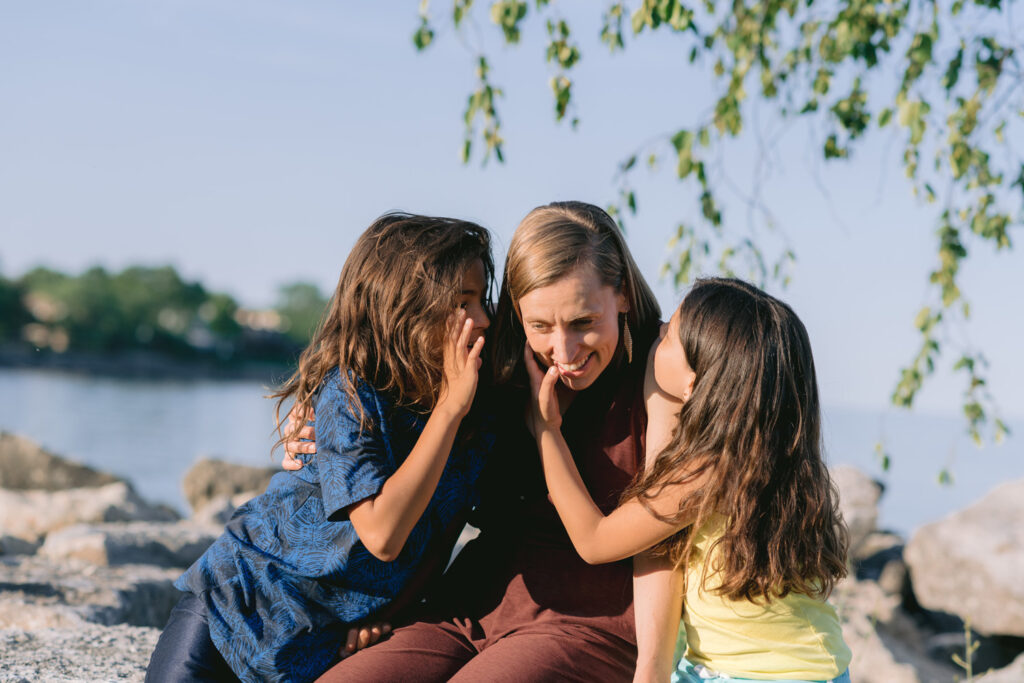 Carolyn Morris is a writer and former award-winning magazine journalist based in Toronto.
Carolyn Morris, Master's in Journalism '09

 
Carolyn has published Finding Your Stars, a picture book about nurturing strengths and embracing fears for children – and their adults too! Illustrated by Toronto artist Lena Lee, Finding Your Stars invites readers to explore a 'curious trick' to navigating the emotional ups and downs of life. Visit @findingyourstars on social media. 
Farah Nasser, RTA '03
Farah is one of Toronto's most recognizable faces in news and a trailblazer in the industry. A multi-award-winning journalist and Global News weekend anchor, she is passionate about championing diversity and inclusion through storytelling. 
Tracy Tong, Journalism '02
Multi-market anchor and producer, Tracy has been a well-known and trusted journalist for more than a decade. She has interviewed celebrities on the red carpet, travelled to follow the Toronto Raptors throughout their historic 2019 NBA championship run and provided network coverage of the 2016 Rio Olympics. She was also the executive producer and co-host of the network-wide Global News special "Hidden Hate: Anti-Asian Racism."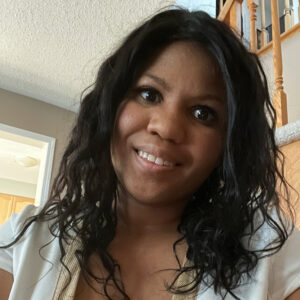 Sasha Alexander was born and raised in Toronto and has been writing since 2005.
2010s
Sasha Alexander, RTA '10

 
"I launched a web series about millennials and the economy called Lost Jen. Professionally I go by Jade Stone. You can find Lost Jen on YouTube." 
Melissa Compton, Child and Youth Care '15

 
"I worked as a frontline crisis worker for three years at Native Child after graduation. I then worked as an immediate frontline crisis response worker for the anti-human-trafficking team for two years. I completed my second self-published book of poetry and am currently in the editing process for my third. I am a bead worker and jingle dress dancer within the Toronto urban Indigenous community. I sat on the board of Native Women's Resource Centre for some time. I am now the manager of culture and wellness programming at Canadian Roots Exchange and an independent consultant for anti-human trafficking training and consultations."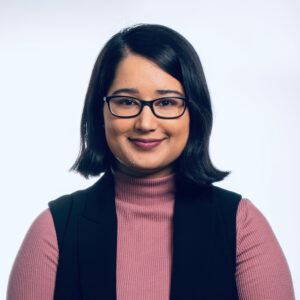 Gurneet Dhami grew up in a diverse community that taught her to value identity as her past shapes your future endeavors.
Gurneet Dhami, Food and Nutrition '17

 
Gurneet was named one of 20 Aspiring Innovators of the Year by the Coalition of Innovation Leaders Against Racism (CILAR). The award applauds outstanding accomplishments, leadership and inspirational work. The list was curated by CILAR leaders to honour the diversity and leadership of individuals who contribute to its mission to create pathways and opportunities that build a more inclusive innovation ecosystem. Gurneet has 10 years of expertise in community, health promotion and nutrition. She has given countless presentations and workshops, and created social media content focused on anti-racism and food equity. Her thesis on the experiences of racialized dietitians in Canada was the first known study of its kind in Canadian dietetics.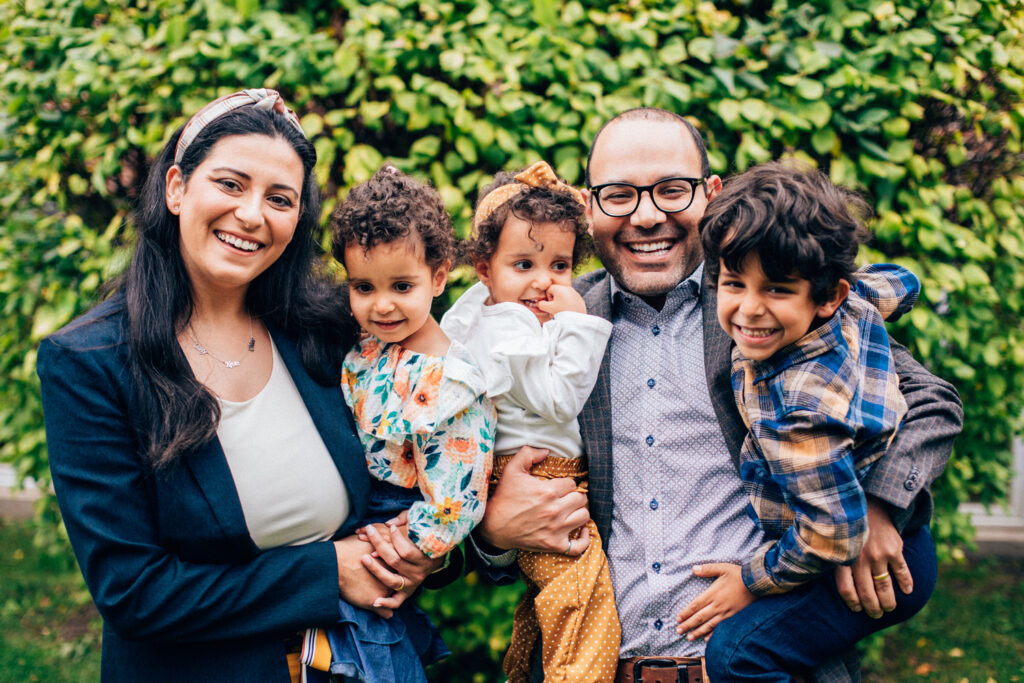 Heidi (Nessim) Hanna, Ted Rogers School of Management '15, and Gaby Hanna, Electrical Engineering '06, with their three children at Thanksgiving. Visit gabyhanna.com for Gaby's photography work.
Dmitri Ignakov, Aerospace Engineering (PhD) '13; Ilija Jovanovic, Aerospace Engineering (PhD) '21 and Bryan Stuurman, Master of Applied Sciences (Electrical Engineering) '09
are the founders of Taiga Robotics, rentable robots that can handle simple, time-limited tasks, such as sorting items, co-packing and order fulfillment. 
Ryan Lee, Ted Rogers School of Management '13

 
"I recently launched a new game called Rogue Legacy 2 on PC and Xbox, which has been receiving global critical acclaim."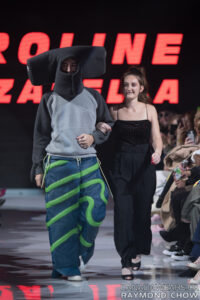 Karoline Mazzarella (right) and model Ethan David Berkeley-Garcia. Photographer: Raymond Chow/CanadaWears.ca
Karoline Mazzarella, Fashion '19

 
Karoline had her spring and summer collection debut in November at Fashion Art Toronto, the city's largest and longest running fashion show. Karoline's designs are inspired by the fear and danger experienced through extreme-sports and dangerous creatures, which derives from her sports-oriented childhood and her interest in the scientific unknown. Her designs twist the feeling of fear into fun and playful shapes through her colourful, crafty and sporty aesthetic. After graduation, Karoline moved to London, England, to complete her master's of arts in menswear at the University of Westminster, graduating in 2022.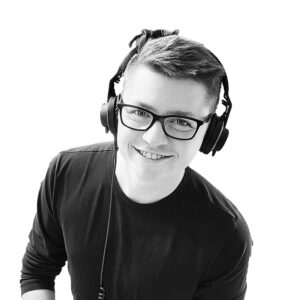 John Riordon is passionate about technology, media and music in both personal and professional landscapes.
John Riordon, RTA Media Production '19

 
"I've accepted the position of director of programming, NB, with Stingray Radio. In this role, I supervise our company's six New Brunswick radio stations. I also host a Saturday evening show that is carried by about 20 of Stingray's country stations across Canada. This job comes in part from an RTA-facilitated internship." 
Liem Vu, Master's in Journalism '11
Global News morning co-host and weather specialist Liem has covered everything from breaking news, local stories and interviews with the biggest names in Hollywood including Hugh Jackman and Ryan Reynolds. 
2020s
Bisrat Woldemichael, TRSM '21
"Since graduation, I started full-time work at Lenczner Slaght where I did my co-op through TRSM. I've been there for more than a year as a strategic planning and innovation coordinator. In the fall, I once again became a full-time student at the Lincoln Alexander School of Law to earn my J.D. I've really been looking forward to becoming a TMU student again." 
In Memoriam
Laverne (Verne) Allan, Electronic Technology '57

 
Verne was born in Guelph, Ont., in 1934 and passed away in 2022 in Ottawa at 88 years of age. Verne was part of the first cohort of graduates to be recruited by the National Research Council of Canada, where he spent more than 30 years working in its division of radio and electrical engineering. Longtime colleague John Hazell '59, writes that "Verne assisted in the development of numerous patented technologies and the publication of academic papers." He is survived by his wife of 63 years, Ruth, three children and five grandchildren. 
Donald Lorne Blakslee, TRSM '54

 
Donald passed away peacefully on Feb. 6, 2023, at the Ottawa General Hospital at the age of 92. Beloved husband of Joan Blakslee (nee Connolly) for almost 65 years, Don was raised in Sydenham, Ont., and began his distinguished hotelier career immediately after graduation, serving as general manager of The Lord Elgin Hotel in Ottawa for almost 50 years, which earned him the title Lord Blakslee! Don loved the family dog Oskar, loved to fish and enjoyed spending time at his beloved Kingsmere Lake in the Gatineau Hills.  
Engineering Professor Emeritus John Edmundson Little
passed away at age 94 on Oct. 6, 2022. 
Gord Shlanger
,
Radio and Television Arts '63
,
passed away Sept.29, 2022. He was very engaged with TMU and had recently been honoured with a G. Raymond Chang Outstanding Volunteer Award. 
Dartnel Dickson Clark, Business Administration '64

 
Dartnel passed away in Kingston, Ont. on Dec. 19, 2022. He worked at Butler Buildings in Burlington for two years and left to begin a career in teaching. He completed his bachelor of commerce in 1970 while teaching for the Ottawa Carleton Board of Education. He became the business director at Lindsay Collegiate and Vocational Institute, during which time he earned his master's of education in administration. He retired in 1999 and moved to Kingston, Ont. 
Otto Ahlers, TRSM '68

 
Otto died April 26, 2021, peacefully at home. He worked for IBM and Eaton's before holding executive positions with non-profit associations in Burlington, provincially and nationally. Otto's crowning achievement was co-founding Wyndham Art Supplies in Guelph in 1992 with his partner Margaret Langton and son Chris Ahlers. The store grew to become a prominent art supply retailer in Canada and a hub of the local arts scene. He volunteered with Meals on Wheels, the downtown BIA and the Rotary Club, among other groups.