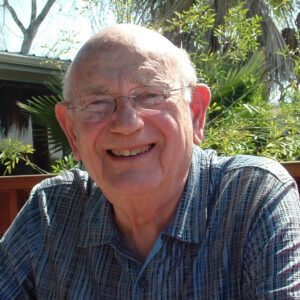 Frank Best, Electrical '55
"We are a Ryerson family! My daughter and granddaughter also have degrees from Ryerson. For the first 28 years of my career, I worked for two major electrical manufacturers and travelled across Canada, marketing motor control equipment to various industries. Later in my career, I taught electrical technology at Georgian College in Barrie. My thanks to Ryerson for its cooperation in the development of the course in digital systems. After retiring in 1996, I returned to Georgian as acting dean of technology. The most exciting thing I did in my personal life was to obtain a private pilot's license."
Donald Campbell, Fashion '51
"After two years at the Title Dress Company in Toronto, I spent my career in London, England. I established my own business in 1973 and opened two ready-to-wear shops in Chelsea and Knightsbridge, for which I designed and produced annual collections. My best-known client was Princess Diana, who came to me shortly before her marriage to Prince Charles in 1981. May of my clothes featured in their earliest official engagements, including their honeymoon and first overseas trips to Australia, New Zealand and Canada. I retired in 2009 and closed both shops. Now at 88, I continue to enjoy a full life in London."
William (Bill) Wingfelder, Electrical Technology '53
Bill is enjoying his 92nd year living in Honey Harbour, Ont., after a long and successful career with Canadian General Electric.
Bruce Foden, Electrical Technology '60
A certified engineering technologist, Bruce retired in 1993 after 27 years at Ontario Hydro, five years teaching at Algonquin College and a year at Northern Electric. He served in several executive roles with the Ontario Association of Certified Engineering Technicians and Technologists and was involved in national standards and accreditation programs for the technology profession. He keeps busy playing the guitar and the ukulele and has been married for 60 years to Gayle; they live with two cats in Parksville, B.C.
Maureen Kennedy, Fashion '62
A group of Fashion and Home Economics grads from 1962 have met 40 times over the past number of years to celebrate their graduation. "In 2021 we all decided to meet in person," writes Maureen Kennedy. "Ten grads met in person and five met on Zoom on both evenings at the hostess suite in the hotel."  Alumni Relations provided branded ball caps that were the highlight of the gathering. At the event were: Anna Arnold, Food Administration; Home Economics grads Susanne Artichuk, Carole Brunton, Sirkka Cooper, Ruth Dover, Joan Foss, Marion Martin, Norma Munro, Marjorie Paradine, Joyce Ross, Lois Whitfield, and Fashion grads Dianne Mellow, Mary Merrill and Norma Wells.
Mel Lee, Business '66
"After a rewarding 30-year career in computer sales/sales management with NCR Canada/AT&T, followed by several years in business development at Northrop Grumman, it was time to retire. NCR conventions took me to Hong Kong, Rome, Monte Carlo, Zurich, London, Paris, Rio, Nice, Australia, Hawaii, Mexico and New Zealand many times. I'm very proud of my children with Pat Campbell, Administrative Studies '66, who both attended Harvard University. Our son is an infectious diseases specialist and an associate professor of internal medicine at McGill University, and our daughter is a clinical scientist and associate professor of infectious diseases at the University of Toronto."
Barbara Mckenzie, Home Economics '60
Barbara and fellow grads Grace Burk, Joan Copeland, Anne Graydon, Ann Hay, Gail Hunter, Barbara Kingswood, Isabel MacDonald, Wanda Olszewski, Sue Sibulash, Helen Shewchuk and Jean Umbach met last fall for a reunion luncheon.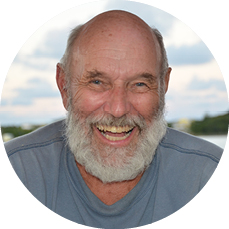 Vince Weeks, Aeronautical Technology '69
"After Ryerson, I ventured to England with my wife and obtained a master of science in aerodynamics at Cranfield University. I worked at Dofasco for three years, after which I completed a bachelor of education at the University of Toronto. Following that, I had a rewarding career teaching physics in Halton for 28 years. I spent many weekends camping and hiking with my students. Among the field trips was a student exchange with an Inuit community on Hudson's Bay and two field trips to Nepal to build schools. During my early retirement, I built a sailboat and spent 12 winters on it in the Bahamas with my wife. We also bought a hobby farm when our children were little and we now enjoy a wonderful life there."
Judy Cook, Theatre Performance '75
"I have just self-published my second book The Children's Moon. My first book, When Dinosaurs Go Dancing, is available at the Ryerson Bookstore." Visit judycook.ca.
Robert Durette, Environmental Health '78
"I worked in various positions at Health Canada in Quebec, British Columbia, Alberta and finally Ottawa, where I retired after 32 years. 'La vie est belle' in Ottawa: life is awesome and healthy. I'm doing lots of volunteering in the arts."
Mel McDonald, Public Health '74
"After graduation, I left Scarborough to work as a health inspector in Fort Macleod, Alberta. I intended to stay a year or two; I'm still here! My wife, born and raised in southern Alberta, started working the same day as a dental hygienist. After five years in public health, I worked at Alberta Consumer Affairs for 15 years, based out of Lethbridge. My third and final career was in printing/publishing, from which I retired last January after more than a quarter-century. We have two children and two grandkids who live nearby. We enjoy the less hectic pace of the beautiful prairies and Rocky Mountains."
Jerry Ohlhoff, Retail Management '76
Jerry has retired after 40 years in IT and project management.
Steve Athey, RTA School of Media '81
Steve has retired after 35 years working as a TV technician at CBC Toronto.
Marisa (Crespi) Rank, Office and Administrative Studies '88
"I recently retired after teaching for 30 years with the Grand Erie District School Board. I served as the department head of business and family studies during the last seven years of my career. I taught a range of courses including computer studies, entrepreneurship, short-hand and international business, for which my years at Ryerson prepared me very well. It was an honour and a privilege to work with teens, other Ryerson alumni and local businesses in my community. Retirement has me tending to my garden, working on home projects and, eventually, travelling."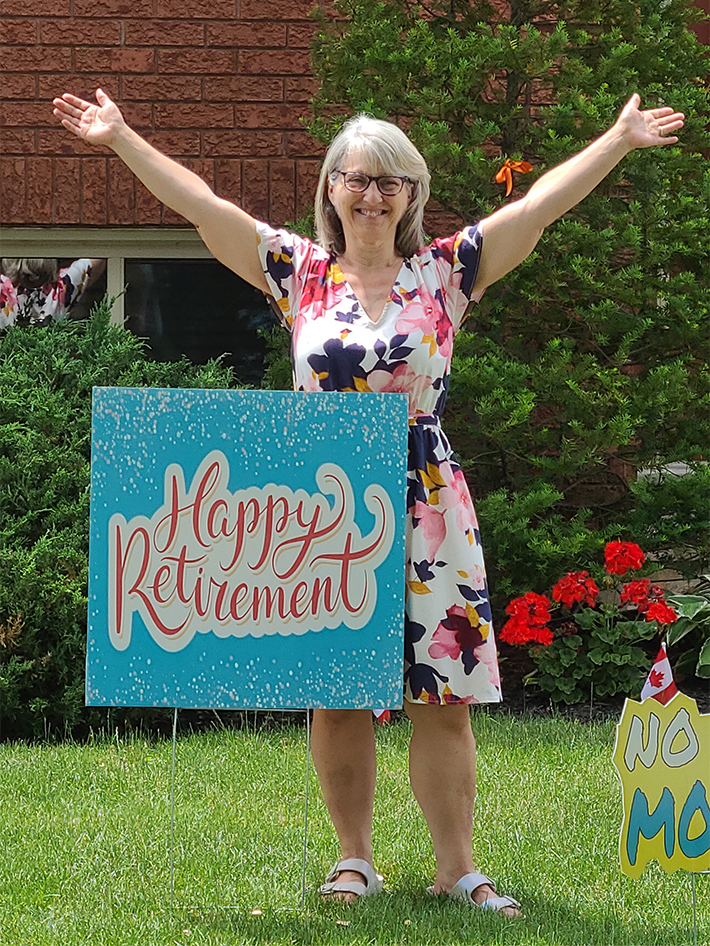 Marisa (Crespi) Rank's husband had retirement signs and balloons placed on the lawn for her first official day of retirement.
Paul Del Motte, Theatre Performance '86
"I've just finished my 35th year at Mount Allison University. Currently the production manager for the Mother-Fancy Theatre and the drama studies program, I'm still doing theatre—which has always been my passion. I'm also vice-president for CITT/ICTS, a national organization supporting technicians and managers in live entertainment. Now, I'm enjoying life in Sackville with my wife, Jennie, and our young daughter Megan."
Bruce Dienes, Journalism '83
Bruce has been teaching online at Mount Saint Vincent University while developing a four-stage process to engage people in the cultural shift, and consulting with non-profits and small businesses.
Wendy Joseph, Administration andInformation Management '89
"I started an event planning and catering business in January 2020 called Food Creatives Catering Services. We do weddings, all types of events and meeting planning, as well as catering, culinary walking tours and dinner theatre packages. I also continue to volunteer for several charities, giving back to the community."
Bill Lukasewych, Mechanical Engineering '88
Bill is a senior partner at Frontier Technology Services.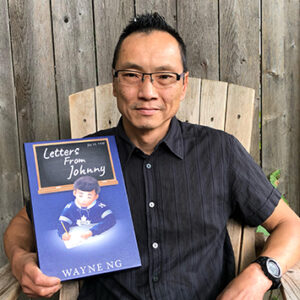 Wayne Ng, Social Work '88
"My second novel, Letters From Johnny, was published by Guernica Editions in April. Though fictionalized, the novel captures the zeitgeist of the 1970s in Toronto and has many biographical aspects drawn from my own childhood memories and the eclectic downtown Toronto neighbourhood. I have been practising social work since graduation; my career intersects with my writing through the development of authentic and believable characters." Visit waynengwrites.com.
Peter Reiter, Chemical Engineering Technology '83
A retired high school vice-principal, Peter completed the University of Toronto (OISE) Doctor of Education program in 2019.
Tracey Thorpe Krejcir, Early Childhood Education '82
"My late husband Paul Krejcir was a Ryerson Civil Engineering '80 graduate. Along with Paul's company, Anchor Shoring, our family donates a $1,000 engineering award each year in his name. It has been my pleasure to be a Ryerson alumna and annual donor, as I have very fond memories of this great university."
Silverio Baena, Certificate in Architectural Technology '93
"After graduating, I went to British Columbia and worked as a structural steel detailer before moving to Arizona in 2000 to work as a structural steel draftsman. I came back to B.C. in 2007 and continued to work in the same field. While in Arizona, I frequently travelled to Mexico and met my future wife in Mexico City. We married in 2019 and are now living happily in Surrey, B.C."
Andrea Harry Bibbs, RTA School of Media '99
"I started my career at WarnerMedia (formerly Turner Broadcasting) as a summer intern while I was at Ryerson. I was offered a full-time role in 2000 and have been here since. In March 2021, I started a new role as vice-president, studio operations marketing for WarnerMedia ad sales. Prior to this, I served as the senior director of diversity, equity and inclusion strategy for the company's news and sports division. I live just outside of Atlanta, with my husband Trey and two children, Bailey and Braeden. Although I've lived in the U.S. for the past 20 years, I'm still very committed to helping young Canadian journalists. I currently serve as a board advisor to the Canadian Association of Black Journalists, of which I was a student member while at Ryerson."
Michelle Leone Huisman, Image Arts '96
Michelle is a fine art photographer, mother of two, entrepreneur and community advocate. After graduation, she travelled to Nepal, Laos, Thailand and throughout Europe, which shaped her artistic vision. She worked as a set decorator and interior decorator. Since 2009, she has worked as a freelance photographer and recently toured her photographic exhibition, An Unexpected Collection, featuring photos of wooden spoons broken during the banging of pots for the nightly cheer for first responders during the pandemic. Visit michellehuisman.com or @miche.lleleone on Instagram.
Mary Martin, Social Work '92
"I recently retired from the Ontario Public Service. I was a social work manager at a correctional centre where I worked for 20 years. I am looking forward to spending time with my grandchildren, Aiden and Isla, and with other family and friends. Post COVID-19, travel will definitely be in the plans."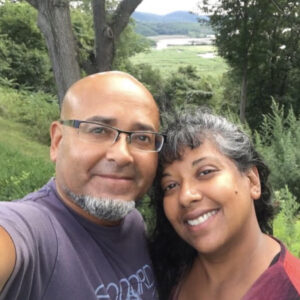 Sita Singh-Rodriguez, Social Work '92
"After graduation, I worked for 14 years in a leading financial company, Goodman & Company Investment Counsel. I moved to New York in 2008 to marry the love of my life, Pedro. I now work in Manhattan at a private school as the after-school club coordinator. I am lucky to work with staff and engage with students from around the world. Living in New York is a dream come true as there is so much culture, art and entertainment. I love to travel and have visited Italy, Spain, Portugal, England, Vienna, France, Barbados and Curacao. Once the pandemic is over, I look forward to resuming my travel adventures and also visiting my hometown and family in Toronto."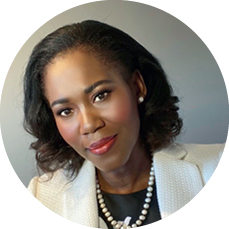 Marsha Brown, Social Work '09
The vice-president of the Jean Augustine Centre for Young Women's Empowerment, Marsha received one of the highest honours in Jamaica last year, the Award of the Badge of Honour for Meritorious Service for philanthropy for Jamaicans in Canada and on the island.
Mary Grace Betsayda-Petrie, Master's in Immigration and Settlement '08
"Since Ryerson, I completed my bachelor of education at York University and travelled to London, England, to teach English for a few months—I ended up staying more than a decade. Currently a secondary English literature and English specialist in London, I am embarking on my next adventure to teach in Glasgow, Scotland."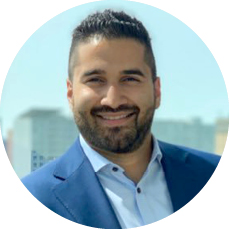 Cyrus Cooper, Hospitality and Tourism Management '09
Cyrus recently completed his MBA at the Ted Rogers School of Management, class of 2021.
Scott Dunn, Management and Enterprise Development '06
"I have worked in a variety of roles in the global supply chain, including 10 years as a team leader at Celestica in Don Mills, and nearly six years as a senior analyst in wireless supply chain at Rogers Communications."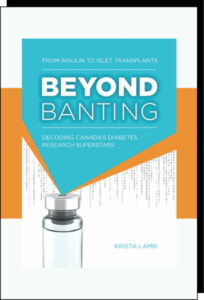 Krista Lamb, Journalism '00
"My first book, Beyond Banting: From Insulin to Islet Cells, Decoding Canada's Diabetes Research Superstars, was published in March 2021 by Rock's Mills Press. The book looks at the contribution Canadian researchers have made to the field of diabetes research in the 100 years since the discovery of insulin."
Jeff L. Lieberman, Radio and Television Arts '00
"I'm currently finishing my third documentary film, Bella!, about feminist, activist and congresswoman Bella Abzug, featuring Nancy Pelosi, Hillary Clinton, Barbra Streisand, Shirley MacLaine, Lily Tomlin, Phil Donahue, Marlo Thomas and more." Visit bella1970.com.
Cathy Schlender, Certificate in Public Relations '02
"I've had a rewarding career in corporate communications, mostly with large, well-known organizations where I have executed strategic communications programs."
Anne-Marie Blakelock, Social Work '13
"After graduation, I worked for the Children's Aid Society for six years in different roles. In 2018, I completed my master's of social work at the University of Toronto and then started working at Northumberland Hills Hospital in Cobourg as a mental health therapist."
Michael Chung, Urban Planning (MA) '14
Jacob Notten, Industrial and Mechanical Engineering '15
Ryerson grads Michael Chung and Jacob Notten first met at the pool on campus in 2014. Chung was doing laps, and Notten was a lifeguard. One day, when some of Chung's things went missing from his locker in the changeroom, Notten stepped in to help. Eventually, they went on a first date—and this past summer, the duo tied the knot in a tiny ceremony on Toronto Island with their very nearest and dearest. Saying their vows in front of the Toronto skyline was "magical," Chung said.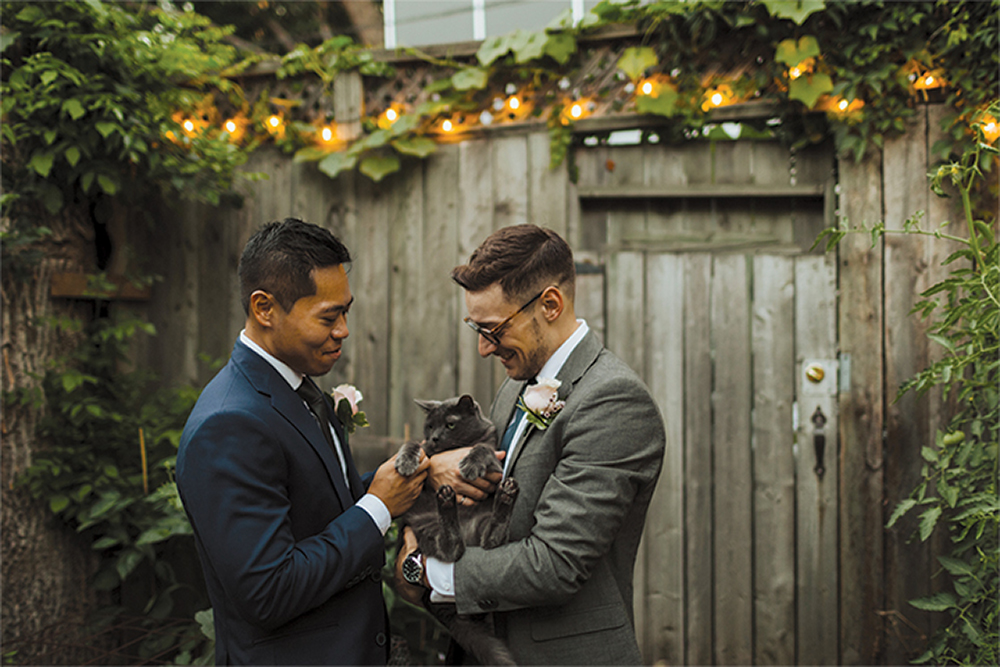 Michael Chung, Urban Planning (MA) '14, and Jacob Notten, Industrial and Mechanical Engineering '15, who met as students at Ryerson, were married on Toronto Island last summer. Photograph by Lydia Ivy Photography