To fully and ethically recover from the COVID-19 pandemic, Canada must radically reimagine its society to prioritize climate justice over economic growth. That was the urgent message social activist and bestselling author Naomi Klein shared during Alumni Week last fall.
In her talk, Klein illuminated the anti-planet logic of the capitalist system and its growth-before-everything imperative. When the stakes are this high, she said, we cannot rely on the private sector to take bold action on climate. To rebuild an equitable and sustainable society, what's needed is a non-market, commons-based approach that is co-created by and serves all.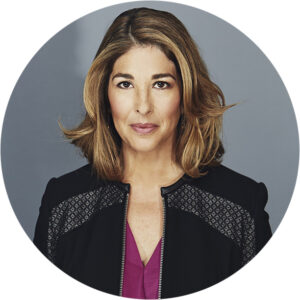 "We are in a period of overlapping and intersecting crises, with roots in an extractive, rapacious worldview—extractive of people, labour and the planet. We need climate action that simultaneously addresses the crises of social and economic injustice that cleave our nation and our world," said Klein, the author of eight critically acclaimed books on disaster capitalism, shock politics and globalization.
"The responses must be rooted in the demands of Indigenous rights movements for land back, in demands for Black liberation and migrant rights' movements, for disinvestment in policing surveillance, incarceration, accompanied by massive investments in good schools that celebrate diversity of identities, investments in green social housing, investments in union jobs, in the care economy and public transit and community-controlled renewable energy."
The one-hour event featured a screening of Klein's October 2020 animated film, A Message from the Future II: The Years of Repair, which imagines a future where the lessons of the COVID-19 pandemic and global uprisings against racism propel us to build a better society.
"There is a greater role for our post-secondary institutions as we chart a path to a climate action rooted in justice, grounded in Indigenous ways of knowing and accountable to the best science," said Klein to the university community. "As scholars, as students, as experts in your respective fields, we need you to be part of this conversation."